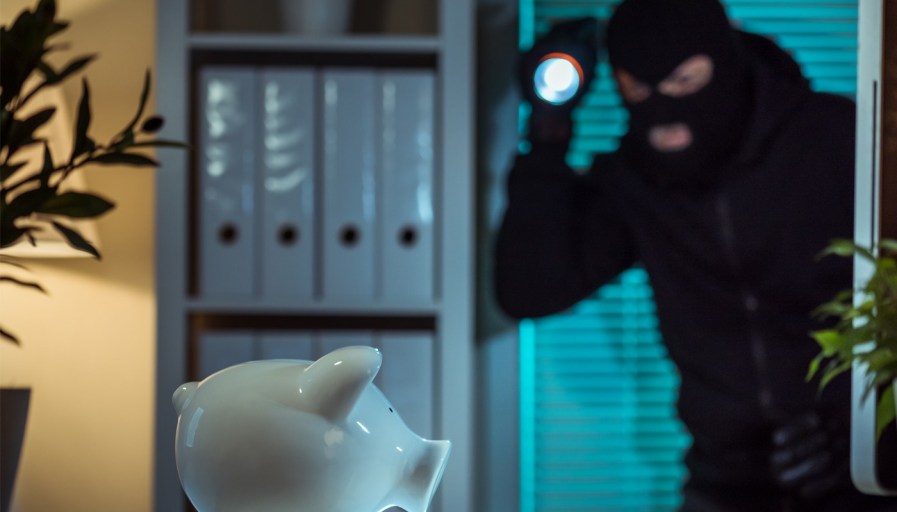 Whether you live alone or you've just moved into a new neighbourhood, the thought of a break-in could keep you up at night. Even though Canada is one of the safest countries in the world, home invasions and burglaries do happen.
Thieves are opportunists, which means they'll look for the easiest openings to take things with minimal risk of getting caught. While we can't guarantee your home's security, these precautions can help make your home less of a target for criminal activity.
1. Adopt good habits
Many burglaries happen without any signs of forced entry. Even if you're just going out for a few minutes and especially when you go to sleep at night, always lock your doors and windows. And, never leave a spare key "cleverly" hidden on your property. Intruders may look around for these, making their break-in that much easier.
2. Get a motion sensor/detector
Motion sensors connected to lights can be a great deterrent against burglars. Even if a would-be thief knows you aren't home, your neighbours could notice the activity from the lights turning on and notify someone.
Some motion detectors can cover 240 degrees with 100-feet of range. Pair them with bright halogen bulbs to make the largest impact (of course, check with your township and neighbours to be sure there aren't any restrictions or objections, first).
3. Put your lights on timers
If and when you travel or leave your home for an extended period of time, programming your lights to go on and off at normal intervals can help create the illusion of an occupied home—which could be a deterrent for thieves to attempt a break-in. There are a variety of smart home apps and devices to get you started.
4. Don't leave any opportunities for burglars/thieves
Thieves don't want to spend time digging through your possessions and risk getting caught, they'll take the most valuable items they can see and leave quickly. Don't make it easy for them. Refrain from leaving your valuables (for example: money, wallets, jewelry, keys and electronics) in plain sight near easily-breakable windows or out in the open on the main floor.
5. Don't put your name on your mailbox
If your name is prominently displayed on your mailbox, virtually anyone can look you up online and—even if you're not connected— can potentially find out information about you, like whether you live alone or if you're on vacation.
6. Install an alarm system/security cameras
Alarm systems can be extremely effective deterrents against break-ins. Cameras even more so, because the footage can be used to identify suspects and as evidence in court.
With current technology, you can even monitor cameras and alarm systems from your smartphone or computer no matter where you are.
Most systems come with decals or stickers to be displayed prominently on doors and windows to let others know your home is protected.
7. Secure your doors and windows
Creating additional obstacles for burglars and thieves can help you feel safer in your home. A few options are:
Wooden deadbolts in window sills to prevent windows being opened from the outside;
An attractive set of bars mounted outside of ground-level windows;
Galvanized steel locking mechanisms on doors; and
Keys that require specific authorization for duplication.
8. Get a dog
Not only are dogs great company, they can also be a fantastic stand-in for an alarm system. Fiercely loyal and protective of their owners and territory—dogs are likely to come to the door to investigate visitors. So if someone shows up while you're asleep, a dog will usually let you know and maybe even protect you from a potential threat.
9. Have good relationships with your neighbours
Having a good relationship with your neighbours means you can rely on each other to be on the lookout for any suspicious activity. Get to know your neighbours, start with offering to help them with things like mail pickup and snow removal while they're away and they'll likely return the favour—keeping both homes safer.
10. Be prepared for emergencies
Nobody likes to think about home invasions. It's crucial in the worst-case scenario, you have a plan and a way to call for help.
Keep your phone charged and within arm's reach near your bed so if you wake up to an emergency, you can call 911 immediately.
Source: realtor.ca