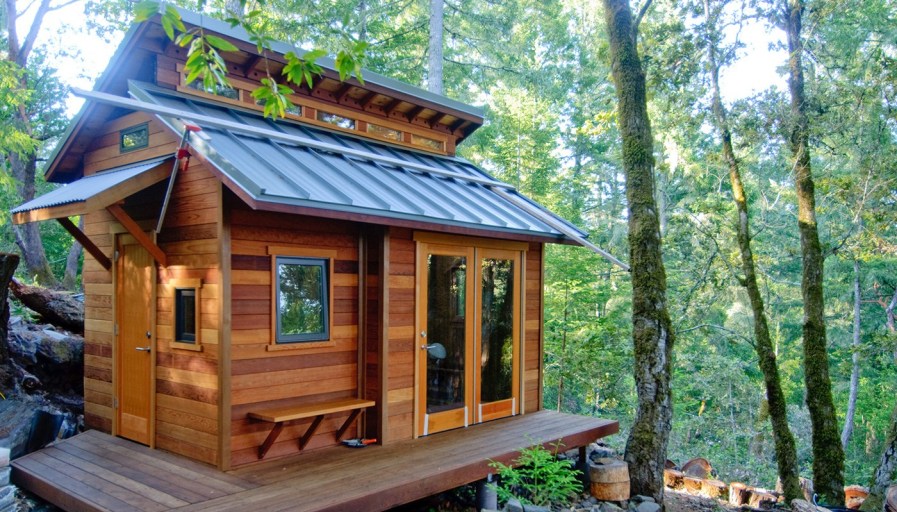 For those desperately in need of some me-time, a personalized backyard oasis might be the perfect solution.
There's been an explosion in the popularity of chic, private getaways steps from home—like the "she shed. Essentially, these sanctuaries are designed to create an at-home retreat perfectly tailored to you. The beauty is in their absolute versatility.
What relaxes you? Is it getting your hands dirty while potting fresh plants and herbs? Is it a quiet space to read or work? A space to workout without interruption?
The options to transform or create your perfect space are endless and all depend on what you define as your happy place. We have some inspiration to help you dream up your perfect retreat and a breakdown of what to consider before getting started.
For the green thumb
If you enjoy cultivating your own fruits and veggies year-long, potting plants and just generally being around flora and fauna, a greenhouse-style retreat might be right for you! Make yourself a workstation for potting and build a plant wall with your favourite leafy friends.
Photo via
Instagram
For the wellness guru
Photo via
Unsplash
Whatever your wellness vibe is, there are some self-care design staples you can incorporate into your retreat to set the tone. Line window sills with selenite crystals and rose quartz to offer emotional healing. Try adding a few drops of lavender essential oil to a diffuser (or a few pots of the real deal) and make room for a yoga mat or meditation space. You'll be blissed out in no time.
For the creative type
Photo via
Pxhere
Are you a craft lover, writer or painter? Set up a workstation and hang some of your favourite pieces of art on the walls. Your retreat could eventually turn into a private gallery or workshop space.
Dancer or singer? Consider lining a wall with mirrors or adding some soundproofing. Treat your retreat like a private studio and make space for whatever it is that lights up your inner creative.
Things to consider before starting your retreat
Photo via
Instagram
Codes and regulations
Every municipality has its own codes and zoning regulations. If you're building new, make sure to contact your city or town to find out if you need a permit before getting started. Inquire about foundation requirements, as larger structures might require a permanent frost-proof foundation.
Location, location, location
Be careful not to place your retreat at the bottom of a hill. The risk of mould, wood rot and blistering paint is much higher in low-lying areas where water tends to collect. Consider placing the structure in an area with access to sunlight. This will help reduce your need for electricity or supplementary lighting and keep things dry.
Photo via
Instagram
Materials to fit your needs
There are three primary materials that can help you get started when buying or building a backyard retreat. They are wood, metal and resin. These versatile materials can help you from the ground up- whether you're framing with metal, or adding a small wooden deck, each of these materials has its pros and cons.
Wood
Pros: Highly customizable, won't rust or dent.
Cons: Prone to rot, may be more costly.
Metal
Pros: Lowest cost per square foot and won't rot.
Cons: Not as customizable as wood and may be prone to rust.
Resin
Pros: The quickest and easiest to assemble—many are prefabricated and can be purchased at most big box hardware stores. Resistant to rust, rot and insects
Cons: Doesn't offer much in the way of design options.
If you're not sure how to tackle the construction, consider consulting a specialist at your local home improvement store to get an understanding of what you're looking for and how to bring it to life.
Lighting
Photo via
Instagram
It might be worth determining in advance how much light you will need in your she shed. With a sunny backyard, you may be able to get away with some solar-powered lights and/or a skylight. If not, you may need to get an electrician involved.
You're never too old to have your own backyard clubhouse. One of the best parts of growing up is being able to fulfill your childhood dreams and what better way than building a private little retreat where you can escape and be by yourself to read a book, practice yoga or just enjoy some me-time.
Source: realtor.ca